DOOSAN & SKDC – THE EXCELLENT PARTNERSHIP CONTINUES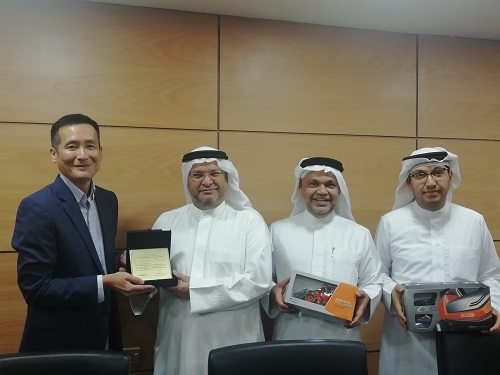 Mr. Sayed Hussain Al Durazi receiving the memento from Mr. Hoan Min Hur, Regional Director of DOOSAN Infracore in the presence of Mr. Sayed Hassan Al Durazi & Mr. Sayed Hashem Al Durazi, Directors of SKDC
With more than 50 years of heritage & a commitment to excellence, the Sayed Kadhem Al Durazi Group of Companies (SKDC) is one of the foremost, family owned business groups in the Kingdom of Bahrain.
With a clear vision from the Chairman, the company has grown and developed into one of the largest, fully integrated and diversified organization and has over 20 # SBU's related to earthworks, civil & mechanical contracting, building construction, commercial trading, equipment rentals, steel fabrication, ready-mix concrete & block manufacturing, asphalt plant, real estate and is rapidly expanding further….
SKDC Commercial Equipment Division supplies a comprehensive range of construction equipment, heavy duty vehicles and contractors' plant & machinery, from the world's leading manufacturers, all in a dedicated effort to provide innovative solutions for earth moving, transportation and material handling industries in the Kingdom of Bahrain.
DOOSAN Infracore Co., Ltd., the manufacturers of DOOSAN range of Hydraulic Excavators & Wheel Loaders have recently felicitated SKDC for 35-years of successful partnership as an exclusive dealer promoting their range of products in the Kingdom of Bahrain.
As part of SKDC, Al Haidariya for Equipment hiring is the largest rental company in the Kingdom providing tailor-made solutions for our customer's variety of construction equipment requirements. After-market support is provided by qualified, factory trained, skilled technicians who are ably guided by professional managers and knowledgeable supervisors to provide customized services.   Dedicated and qualified support staffs ensure that the equipment down time is kept to a minimum by stocking over 25,000 line items in our integrated Heavy Equipment Spare Parts Center at Sanad. For further information/details, please contact Tel # 17-250871.